Yesterday was my first day returning to my Beijing office after a long break away for the Chinese New Year. Leaving work and entering the subway station, I came across a welcome surprise. San Francisco apparel store icon The Gap has finally arrived in mainland China. I still claim to be from the San Francisco Bay Area (hence, the name of my blog "Sino Francisco"), so I'm glad to see the iconic brand make it's way into China, although possibly too late after the wildly successful launches by Zara and H&M several years ago.
More interestingly, though, was that the launch ad campaign, which is currently saturating Beijing, was shot by alivenotdead artist and Hong Kong's celebrated photographer Wing Shya 永康 along with Annie Leibovitz. What a combination! Both are noted for their celebrity portraits so the combination just makes sense.
The campaign pairs a Chinese artist with a Western artist; besides Wing and Annie Lebovitz, it also features prominent Beijing DJ and frequent Sam Lee 李璨琛/DJ Becareful collaborator, DJ Wordy, and personal favorite Beijing actress Zhou Xun 周迅.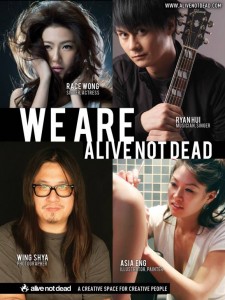 Wing Shya has been the most sought after photographer by celebrities here in China and Hong Kong for many years for his ability to capture seemingly naturalistic, unaffected essences of his subjects. He especially came to prominence as the stills photographer/creative marketing designer for many of director Wong Kar Wai's films. Alivenotdead collaborated with Wing for our very first event in Hong Kong, a retrospective of his work along with an epic concert upstair by several alivenotdead musical acts.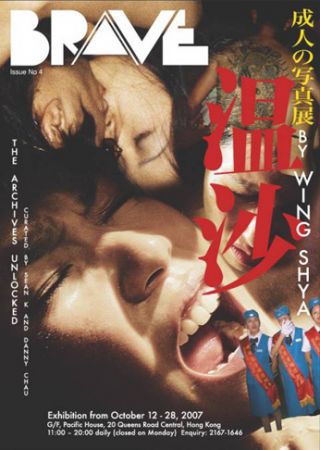 Check out this wrap-up and photos of the event by Hong Kong Hustle. Such great memories of the awesome event.
My favorite of Wing's work, however, has to be "Prevation", a "live-action" manga he shot with additional design by Alvin Goh and featuring my buddy and fellow alivenotdead partner Terence Yin in a teddy bear suit.
Wing extended his reach last year as co-director of the hit Chinese romantic comedy Hot Summer Days 全城热恋 that introduced the world to the currently red hot Angelababy. Being a fan of both Wing and the enchanting Zhou Xun 周迅, I also really enjoy this recent photoshoot video that Wing recorded for i-D magazine:
Or watch a HD version of the video on Vimeo if you're not blocked in China.
In any case, congrats to Wing Shya and it's great to see him and his work so prominently displayed around Beijing.